A friend of mine was asking about using his phone outside the US while on a vacation. I've done this, but while on long stays abroad (several months). Still, I'd probably do this for short-term stays.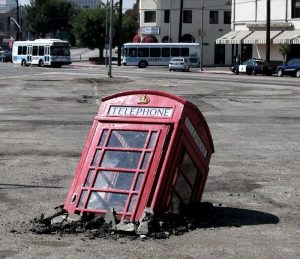 Google Voice
Before my first stay abroad in 2013, I ported my cell number to Google Voice. If you're not familiar, it allows you to send/receive text messages, receive voicemails, with just an internet connection. When you get a call, it will ring all US numbers you specify and route it to whichever picks up first. So after I ported my cell number, I just got a new one and told GV to call it. And, it does all this for free!
This allowed me to send and receive text messages, and receive voicemail, anywhere in the world where I had internet/wifi. So someone could call and leave a message, then you just text them back that you're on vacation. That covers most situations, but GV also allows you to make phone calls internationally for a fee, if you configure it with credit. I can't speak to this as you'll read in a minute.
However, Google Voice also rings all the phone numbers you control. One option is to have it call a friend, family, or answering service. But instead, I set it up to call a…
Skype Number
Skype allows you to purchase a regular phone number. You call that number and it will route to your Skype. As long as you have internet/wifi, you can talk to anyone who calls you. There is a fee for the number, but not a fee to receive calls.
Of course, you can load your Skype account with credit so you can to text or call phones. Right now, it's 2.3 cents/minute or $3/month. I pay per minute since I use it so infrequently. GV saves me from Skype texting fees (a ridiculous 11.2 cents/text!), but I have called people from Skype before. I'll add that if you need to call a business with a toll-free number (credit card company, insurance, etc.) then there is no charge to call from Skype. I've done this many times while abroad.
Of course, you can make free Skype-to-Skype calls and I have many friends and family in Skype, and if not, I can text them my Skype ID via GV or email them for free. There is one more option or twelve:
Facebook Messenger
WhatsApp
Line
Viber
Snapchat
You think of these as messaging (texting) apps, but did you know you can call people like it's a phone? Even video calls, or just sending voicemails. All you need is the internet and it's free.
Getting Internet
That's how you talk to your friends, but how do you get internet abroad? Or even phone service?
Pocket WiFi
This is basically a wifi hotspot about half the size of your cell phone and it gets mobile data – typically LTE – from a local cell phone company. It's rechargeable but should have enough juice to last you on your day trip. Many Airbnb places I rented offered one to guests. But if not, many places will rent them to you, possibly in the airport.
NOTE: If you are going to Japan, this is the only to get mobile data because they make it very hard to get SIM cards. They are trying to eliminate burner phones as too many senior citizens were getting scammed by people calling on burners claiming to be grandchildren requiring money.
SIM Card
I don't go anywhere for less than a month, but honestly, I think this is a good way to go for shorter trips, too. For one, it eliminates the chance that roaming will kick in, although you should be able to go through your phone's settings and turn that off. Also, prepaid mobile plans abroad are way cheaper than in the US. This will be about $20-25/month.
Before my trip, I ask on expat forums which mobile company has the fastest data for the city I'll be living in. If you'll be traveling around the country, ask who has the best service nationwide, because they are frequently different. One company will serve fast internet in the cities, another will be slower but have towers throughout the countryside (AKA the provinces, the villages, etc.).
If they have a shop or kiosk in the airport, I'll buy a SIM card before I leave for my apartment/hotel and get a good data plan with basic voice. Otherwise, I ask a local for the main office in the city and travel there. It will have the most techs to deal with your phone issues and more people who speak English well.
Don't forget your passport – it's required for a SIM card.
VERY IMPORTANT! DO NOT LOSE YOUR ORIGINAL SIM CARD! Bring something like a waterproof key holder to keep it in. Yes, that's way too big and bulky, and you'll thank me when you don't lose it. I've lost mine and it's a pain to get a new one and port your number back.
Remeber, for a short trip, you might want to just bring your tablet or an old phone and put a SIM card in that. Then you don't worry about losing your original SIM card. It's now a bigger, bulkier pocket wifi.
Hardware
I always buy a factory-unlocked phone and then use a prepaid plan, as this saves me money in the long run and avoids lock-in. Very important if you're prone to leaving the country for months at a time.
In general, I'm looking for a phone with the most bands so it can be used anywhere. In 2012, before my big trip, that was a Samsung Galaxy Note 2 International Edition, which had the most bands but no LTE support. It's also very big, which is great when you use it like a map while exploring the city.
Eventually, no LTE was a big disadvantage. On a Christmas sale in 2015, I purchased my current phone, a Nexus 6P. This gets me LTE in every country an has, I understand, every possible band there is. It's like a Star Trek communicator. Again, factory unlocked, which really makes things go smoothly in the phone shop. The tech is used to people coming in with locked phones, so "factory unlocked direct from Google" is like "open sesame" for carrier tech support. It doesn't hurt that it had the top rated low light camera at the time.
Given that good experience, I will probably upgrade to a Pixel XL when my 6P becomes unusable or there is a killer feature introduced. Right now, the only thing that amazes me about the Pixel 2 XL is how much they are asking for it – $750 vs. the $450 I paid for the 6P.  If you have a phone that works awesome globally, please comment!